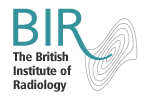 BIR Publications is the publishing arm of the British Institute of Radiology (BIR), publishing books and journals covering all aspects of radiology, radiation oncology, medical physics and the underpinning sciences.
Coverage Information
Faculty/School
School of Engineering, Technology and Sciences (SETS)
Department
Physical Sciences
Pharmacy
Public Health
Subject Coverage
Diagnostic radiology
Radiotherapy
Nuclear medicine
Ultrasound
Radiation physics
Radiation protection
Radiobiology
Oral radiology
Head and neck imaging
Access Info
Login Remotely
Powered by
If you don't have MyAthens userid/Password, please Fillup this form. We will email your account details within 24 working hours.